Blog
COVID-19 Key Developments: Week of April 18-24
European leaders have reiterated concerns about the need to gradually reopen businesses in their countries, and have warned that social distancing measures must continue to combat the spread of coronavirus. Some have also warned their citizens that a vaccine likely will not be available this year to reinforce the importance of continued lockdowns.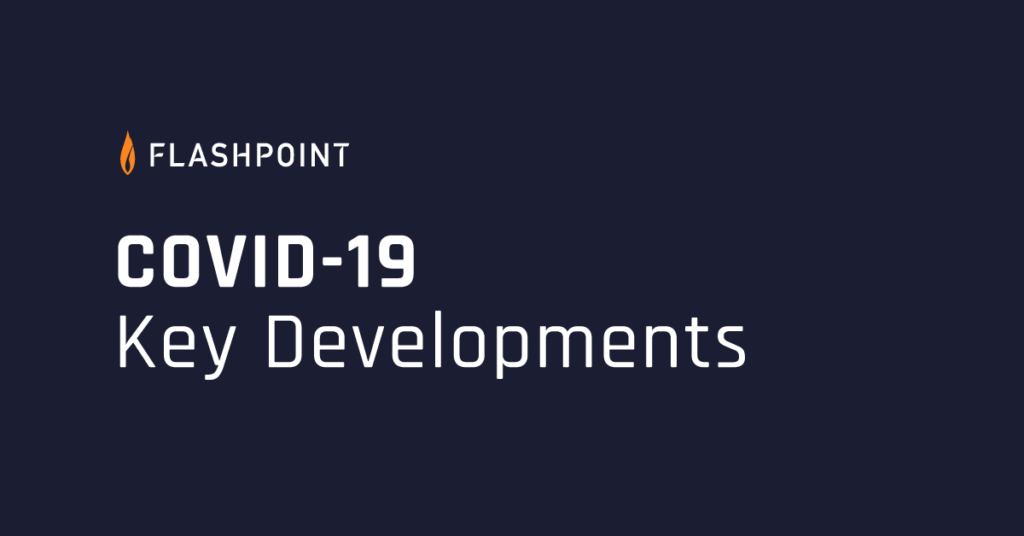 Table Of Contents
Government Responses:
European leaders have reiterated concerns about the need to gradually reopen businesses in their countries, and have warned that social distancing measures must continue to combat the spread of coronavirus. Some have also warned their citizens that a vaccine likely will not be available this year to reinforce the importance of continued lockdowns.
Indonesia, the world's most populous Muslim country, announced a temporary ban on domestic road, air and sea travel starting Friday, April 24 to prevent the spread of coronavirus. This ban goes into effect as millions of Muslims mark the start of the holy month of Ramadan.
Georgia was the first state in the US to broadly re-open some businesses. Georgia's governor announced that effective Friday, April 24 non-essential businesses such as gyms, barber shops, hair salons, tattoo parlors and bowling alleys could re-open for business, as long as they enforce social distancing guidelines. Some have criticized the move, claiming that the move goes against federal recommendations that states reopen businesses only after a two week decline in cases. Some other states have loosened some restrictions, such as reopening beaches in Florida and retail stores in South Carolina.
Coronavirus and Cybercrime:
On April 22, the US Department of Justice announced a multi-agency law enforcement effort to work with domain registrars to identify and disrupt malicious domains being used to propagate fraudulent schemes related to COVID-19. According to their press release, they highlight some of the identified websites, including one that impersonated an American Red Cross donations site, as well as sites that spoofed government programs to capture PII or hijacked legitimate company domains to distribute malware.
On Wednesday, April 22, Google released a new blog post, detailing its findings on active state-sponsored activities using COVID-19 themes as lures.
FireEye published a report that identified Vietnamese state-sponsored activities targeting personal and professional email accounts of staff at China's Ministry of Emergency Management and the government of Wuhan. According to the report, the group's recent activity mirrors attempts by a host of state-backed hackers to compromise governments, businesses and health agencies in search of information about the new disease and attempts to combat it.
A report on a trial that evaluated the efficacy of anti-malaria drug chloroquine was published in the Journal of the American Medical Association on April 24, noting that the drug does not appear to be effective against COVID-19. The trial was cut short after scientists disclosed that numerous subjects in the study died from its use, and scientists associated with the study stated that they hope the findings curb touting of the drug as a possible cure, and the Food and Drug Administration has issued a warning against use of the drug.
Misinformation and Disinformation Trends:
Narratives and major developments observed by Flashpoint analysts include:
"Doctors and scientists" in disinformation: In recent weeks Flashpoint analysts have observed an increasing use of "doctors" and scientists with questionable backgrounds who have presented disinformation narratives. These included speakers like "Dr. Shiva" and "Dr. Buttar" who spread various conspiracy theories and medical misinformation in interviews that reached millions of users on social media, as well as an Italian scientist whose words about Italian COVID-19 cases were taken out of context and misinterpreted by Chinese state media to suggest that COVID19 originated in Italy. In a previous narrative, an interview with a "Dr. Zelenko" who claimed to successfully treat COVID-19 patients with hydroxychloroquine was an important part of misleading and speculative narratives.
Flashpoint analysts assess with moderate confidence that this is a consequence of the ongoing scientific debate about COVID-19 treatments and vaccines being willfully misinterpreted as cluelessness by disinformation actors who can then inject their "own scientists" into the debate to create further confusion.
Some of these have built on previously existing disinformation narratives about "empty hospitals" and overstated death figures. A narrative that has been rapidly spreading on several social media platforms claimed that healthcare workers and first responders posting videos of themselves dancing is evidence that they are not working and therefore death figures are deliberately overstated. An increasing focus on health care professionals has led to protesters verbally abusing healthcare professionals in several states.
Other narratives had to do with the protests themselves. For instance, Alex Jones, a talk show host and conspiracy theorist, as well as a major domestic disinformation amplifier told his followers that Texas authorities supported a rally organized against lockdowns at the state capitol. As anti-lockdown protests are expected to spread across the US, this kind of disinformation is likely going to increase in size. Russian state media and Russia's disinformation ecosystem have also paid particular attention to the protests and highlighted the role of extremists.
New forms of "COVID-19 is man-made" narratives:
One of the most resilient narratives—that COVID-19 is a man-made bioweapon—has continued taking new forms this week.
The claims of a French virologist and Nobel laureate, Luc Montagnier who claimed that the novel coronavirus contained HIV genes and was thus likely created in a lab received considerable attention in conspiracy theorist communities, even as the claims were criticized by other experts.
Several narratives claiming to show misattributed or false evidence that certain key decision-makers knew about the pandemic well before it started to spread on various social media platforms, including a video claiming that elements of the opening ceremony of the 2012 London Olympics predicted the pandemic, as well as an image that claimed to show COVID-19-related spending in Pennsylvania's draft budget in 2019.
Disinformation targeting Bill Gates has gained massive following in the past week. They continued taking two forms: attacks on Gates and his foundation; and disinformation regarding vaccines.
Nearly 25,000 email address and password combinations were exposed online, allegedly from the WHO and the Gates Foundation. This leak turned out to be inauthentic, but online harassment of Gates and his foundation continued.
A viral Facebook post made the false claim that close to 500,000 children in India were paralyzed from a polio vaccine administered by the Gates Foundation.
Disinformation about stimulus payments disbursed under the CARES Act have started proliferating. These included narratives claiming that hospitals and billionaires received large sums in the framework of the act, but also narratives that facilitate fraud.
Chinese state media have continued its COVID-19 messaging critical of Western responses to the crisis but seemed to focus on a different type of content. State and state-funded media accounts focused on growing case numbers in the United States and the United Kingdom, while praising China's response to the crisis, which allowed the lifting of the lockdown in Hubei province. These efforts included meme-like images and videos.
In contrast with earlier efforts that aimed to blame the US and Italy for starting the pandemic, in this phase China is focusing on portraying itself as more efficient and effective than Western democracies. Russian pro-government media published several articles highlighting extreme viewpoints in public debates around COVID-19 in the US as well as the theory that the virus originated in a Chinese military lab.