Blog
AlphaBay Turns 1—Again: Analyzing the Impact of AlphaBay Market
One year into its reemergence, AlphaBay has become one of the largest illicit marketplaces on the darknet—and has plans to innovate. We track AlphaBay's rise, fall, and revival.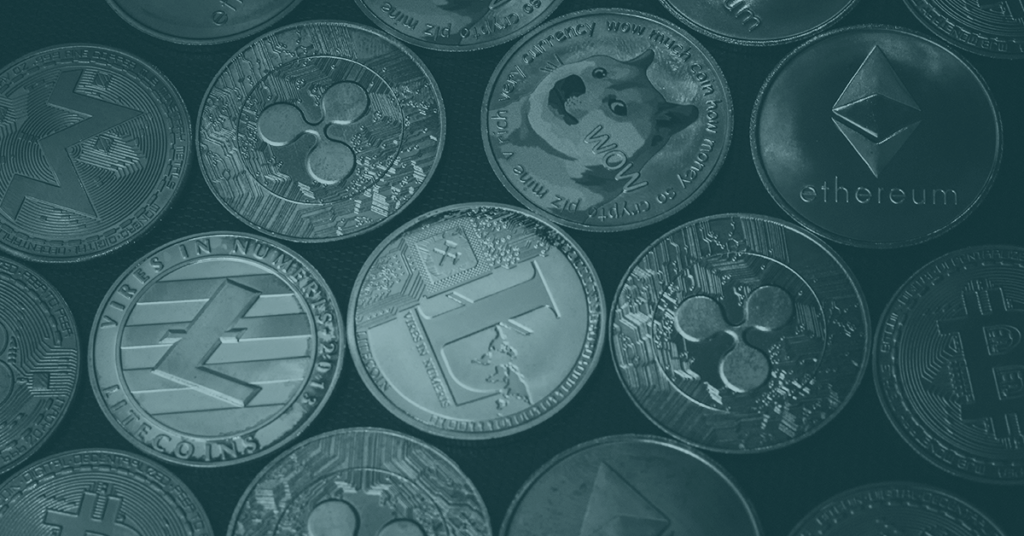 Table Of Contents
KEY TAKEAWAY
AlphaBay tightens its grip.
One year into its reemergence, AlphaBay has become one of the largest illicit marketplaces on the darknet—and has plans to innovate.
AlphaBay Market—then and now
On August 6, 2021, former AlphaBay security administrator "DeSnake" announced that AlphaBay Market had relaunched. The original AlphaBay, founded by Alexandre Cazes (aka "Alpha02") in September 2014, was taken down by law enforcement's Operation Bayonet in July 2017. At the time, AlphaBay was considered to be one of the most popular and comprehensive darknet marketplaces, selling a wide array of illicit and illegal products and services.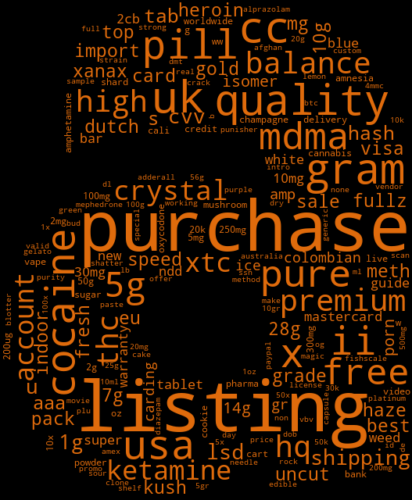 About a year since its reemergence, AlphaBay has quickly, once again, become one of the largest darknet marketplaces. As of this publishing, AlphaBay has managed to amass over 37,000 listings (about 90 percent of which are drugs) from nearly 12,000 vendors, and attracted 885,000 buyers, according to our intelligence. (For context, AlphaBay boasted over 350,000 offerings prior to its original takedown in 2017.)
AlphaBay today
Today's version of AlphaBay experienced a relatively slow start, as vendors and buyers questioned the nature of this relaunch, wary of law enforcement involvement. DeSnake's eagerness to launch AlphaBay with increased security measures, like AlphaGuard and a decentralization project—an effort to sidestep whatever operational security Cazes blundered, eventually leading to his detainment—was met with some skepticism.
Just over a year later, however, AlphaBay has emerged as a top, if not the top, illicit marketplace. In fact, since AlphaBay's August 2021 relaunch, the illicit marketplace landscape has been tumultuous to say the least. The first half of 2022 was marked by takedowns, shut downs, and exit scams of top markets. AlphaBay so far has been able to weather the storm.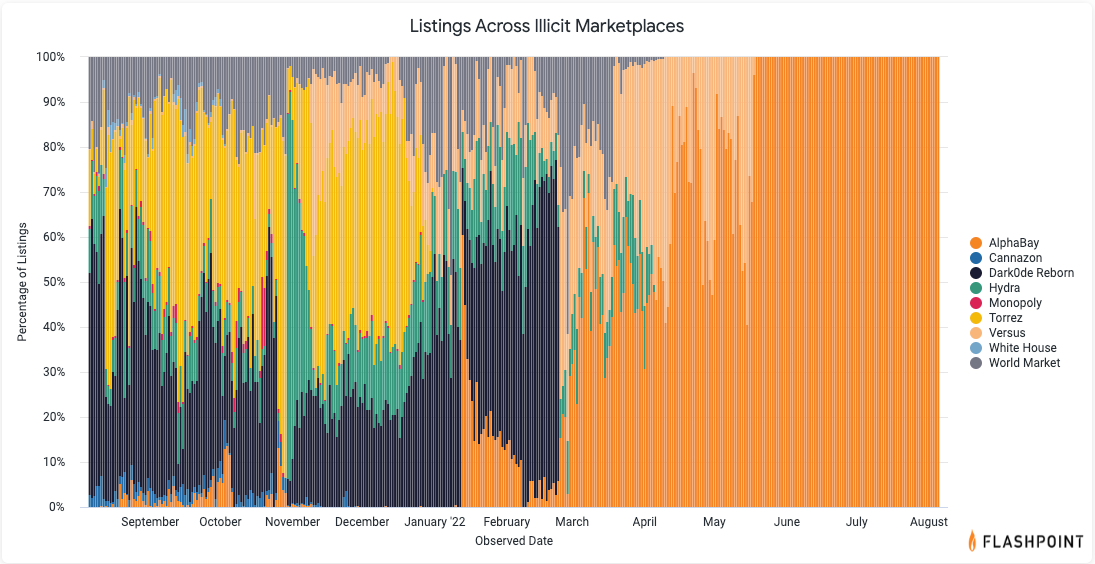 Cannabis, Credit Cards, and Counterfeit Cash
AlphaBay's Monero-only policy does not seem to have deterred or hindered buyers and vendors from operating in the marketplace, which most popularly boasts drug offerings. Cannabis, stimulants, and psychedelics hold the current top three spots, and account for the majority of the current 33,000 drug-related listings.
Fraud offerings like accounts, bank logs, fullz, and credit cards are second to drugs in terms of number of listings.
Coming in third are guides and tutorials for general fraud, hacking, and social engineering.
Since its 2021 relaunch, AlphaBay explicitly prohibits the sale of fentanyl, firearms, and COVID-19 vaccines, and the targeting of CIS states.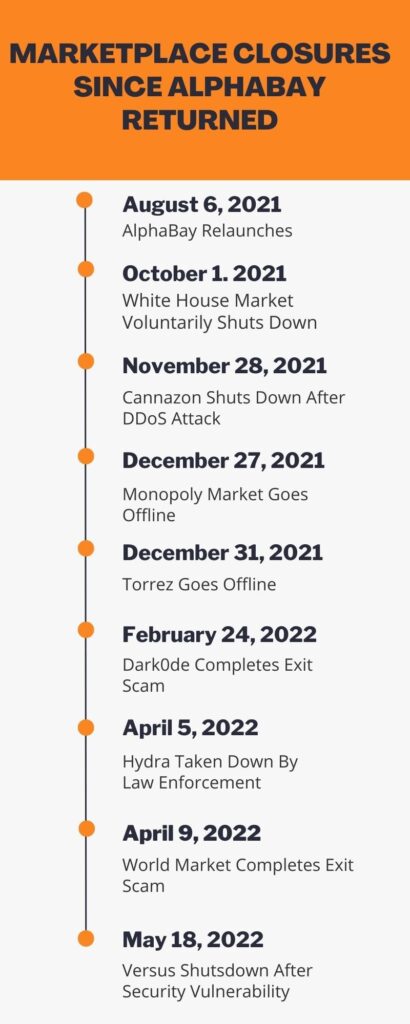 What's next for AlphaBay?
As for DeSnake's market decentralization project, it appears that all 2021 goals have been met, aside from "choosing an official name for the project" which has been kicked to the end of 2022. Coming up is the testing and finalization of the payment module, which will ostensibly replace AlphaGuard, AlphaBay's current payment dispute and protections system. Further down the road, DeSnake will get to demoing the project and bringing on a marketing team.
Falling short may be DeSnake's push to adopt I2P as an alternative to Tor, as it has not had the impact on the marketplace landscape as expected. Other marketplaces, including Bohemia and Libertas, have since attempted to stand up I2P mirrors, though the adoption by users and vendors seems slow and unenthusiastic.
So far, AlphaBay has managed to withstand DDoS attacks, criticism, and skepticism and is well positioned to be a safe haven for increasingly displaced marketplace vendors.
See Flashpoint Intelligence in Action
Sign up for a free trial and see how Flashpoint can provide you with the actionable intelligence your team needs to identify and respond to cyber and physical threats targeting your organization.
When equipped with Flashpoint Intelligence, you have access to collections across illicit online communities ranging from private forums and illicit marketplaces to encrypted chat services channels to gain insight into threat-actor activity on a global scale. Learn more.