Forrester: The Total Economic Impact™ Of Flashpoint
Flashpoint provides a suite of products and services to help organizations identify threats and reduce the impact of cyber-attacks, fraud, and physical damage. This examines the potential return on investment (ROI) enterprises may realize by deploying Flashpoint's trusted intelligence services. It also provides you a framework to evaluate the potential financial impact of Flashpoint on your organizations.
KEY FINDINGS
Quantified benefits. Risk-adjusted present value (PV) quantified benefits include:

• Increased security team productivity delivered $651,499 in time savings.
• Avoided data breach costs delivered $512,282 to the bottom line.
• Reduced losses from fraud totaled $873,722 over the three years.
• Reduced false incident investigations saved the organization $204,121 in wasted time.

Download the Forrester guide to learn more.
"We use it to look for insider threats, detect data exposure, uncover targeting of [people] or assets and to…identify new or emerging attack techniques."
— VP security manager, financial services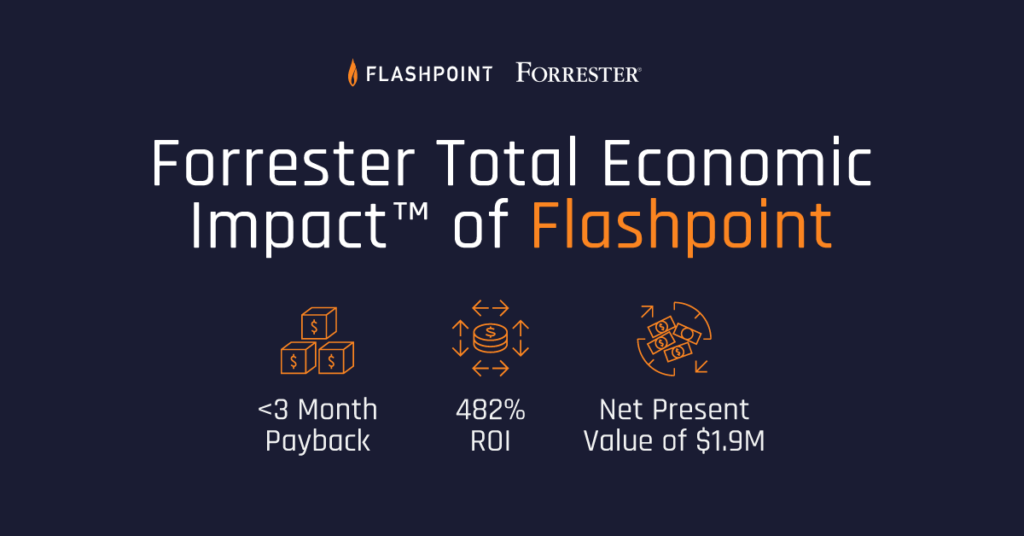 Complete the form to download