Open Source Intelligence (OSINT) for Physical Security
On-the-ground situations often begin with online chatter. As new social platforms emerge and fringe networks gain traction, it is increasingly challenging to sift through the volume of data being created.
That's where open-source intelligence tools come in. Flashpoint gathers a wide breadth of data so you can search, filter, analyze, and understand what's happening, in real time.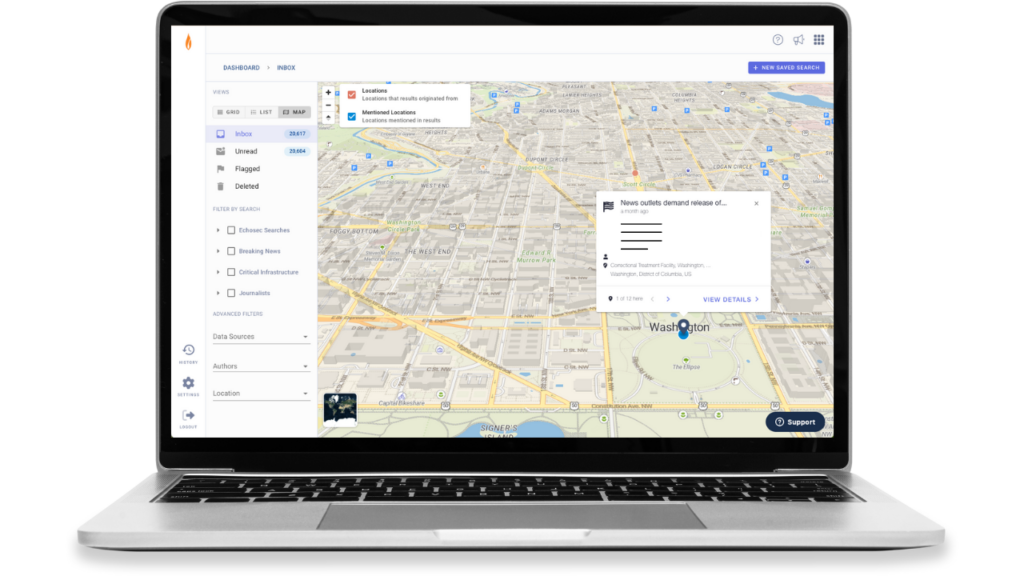 Accelerate speed to insight with OSINT tools
Discover
Find key information quickly with advanced filters. With broad and diverse data coverage, you can ensure no post is overlooked.
Prioritize
Machine learning threat classifiers and custom alerts allow you to disqualify noise and understand what needs your attention.
Investigate
Easily dive into social media spaces to gain context around any situation.
Discover risks in real-time with Echosec, by Flashpoint
Gain situational awareness with geolocated data from a wide range of unique publicly available information (PAI) sources. Stay alert to emerging risks with image and keyword filters, and monitor violent incidents, weather events, and crisis situations associated with locations and topics of interest.
Trusted by some of the most discerning organizations