Blog
All Eyes on Red Square: Why Victory Day on May 9 Could Be a Tipping Point In Russia's War Against Ukraine
Victory Day, which occurs every year on May 9, was initially intended to commemorate Soviet losses during World War II; this year marks the 77th anniversary. Over the last decade, however, Russian President Vladimir Putin has transformed Victory Day into a nationalistic instrument.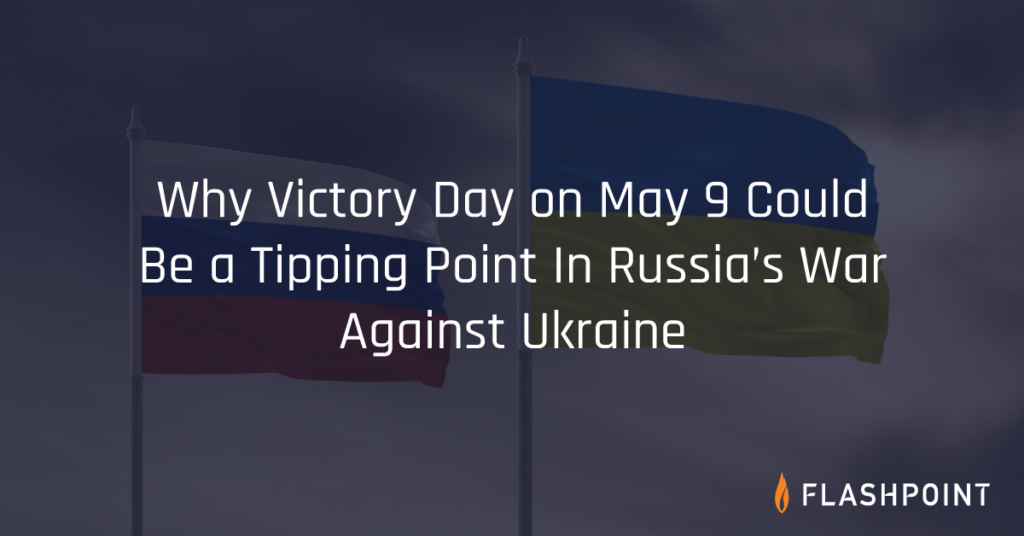 Table Of Contents
From honoring the fallen to parading arms
Russia's Victory Day, which occurs every year on May 9, was initially intended to commemorate Soviet losses during World War II; this year marks the 77th anniversary. Over the last decade, however, President Vladimir Putin has transformed Victory Day into a nationalistic instrument.
Victory Day has become a crucial element in the wider process of crafting the unofficial ideology of Putinism: a state that derived its legitimacy from its victory in World War II, which allowed the government to establish an ideological bridge between the USSR and today's Russia.
Now, what was once a solemn holiday devoted to the remembrance of fallen relatives, has become a government opportunity to brandish new artillery, armored vehicles, and missiles in Moscow's Red Square.
What's changed: Crimea annexation, War in Ukraine
The Immortal Regiment—a grassroots initiative where descendants of World War II victims march through city thoroughfares with photographs of their ancestors—was co-opted by the Russian government in the 2010s and transformed into a nationalized ritual.
Every year, Vladimir Putin also used the opportunity to invite foreign leaders to observe the parades. However, following Crimea's 2014 annexation the number of foreign officials willing to participate in the parade has constantly dropped. This year, for the first time in recent history, no foreign leader is expected to arrive. Russia's current war is premised as a false, "de-Nazification of Ukraine" narrative, which is an element that will surely play a symbolic role in Vladimir Putin's May 9 speeches.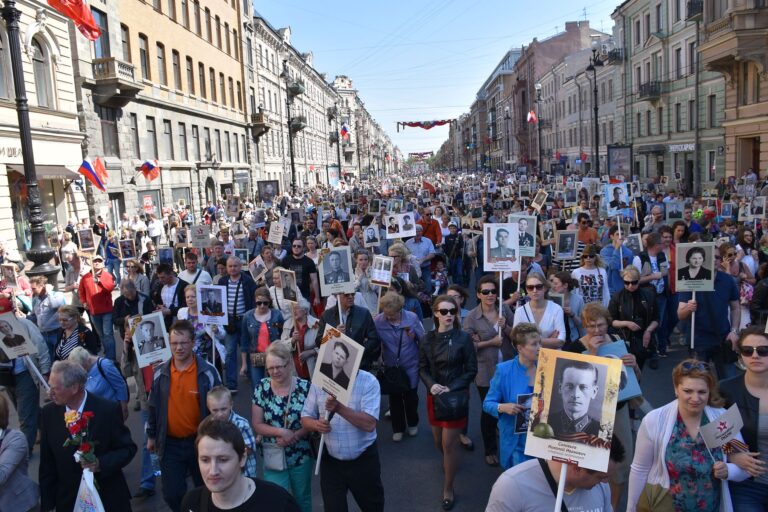 Possible mobilization and declaration of war
Rumors have recently circulated that Vladimir Putin will announce nationwide mobilization in order to bolster its depleted troops—and to issue an official declaration of war against Ukraine on May 9.
In April, conservative estimates from Western intelligence showed that Russia has already lost at least 10,000 soldiers, including a slew of high-ranking officers and generals, and military equipment. 
Current Ukrainian estimates of Russian military deaths reach over 20,000.
The speculations of a mobilization have been purported by Ukranian intelligence, as well as by British Defense Secretary Ben Wallace, who both believe that Putin could try and galvanize the public for a final push, and accelerate the stalled progress the invasion is currently suffering.
Online job boards
In the week leading up to May 9, independent Russian journalists noticed that the websites of various Russian state enterprises, not connected to the military, had job postings for "mobilization and wartime experts." On Headhunter, meanwhile, vacancies searching for "wartime mobilization readiness and training" experts began appearing in Russian job searches. On their online job boards, local Russian police stations began to stress that new recruits would "not be mobilized." If these job postings are genuine, rather than part of a coordinated hacking provocation to sew further panic into the Russian public, then the Russian government could very well be readying country for mobilization.
Such a scenario would entail a nationwide draft of conscripts, many of whom are not combat-ready, but could still be necessary "fodder," depending on the scale of Russia's ambitions in Ukraine.
Additionally, Flashpoint analysts assess with moderate confidence that full nationwide mobilization could also allow the government to transition its economy into a wartime economy, enabling wartime rationing as the Russian economy will begin to experience the full effects of sanctions and withdrawals over the summer.
Draft prospect
At the end of February, Ukraine intelligence reported that Russia would declare martial law and draft conscripts by the first week of March, which contributed to a large exodus of Russian males who are of military age. The Russian government denied the allegations, and ultimately did not declare martial law.

Flashpoint analysts assess with low confidence that the Ukrainian intelligence reports may also be a tactic to try to usher in fear and confusion into the Russian public, as the Russian government has made no clear indication that it plans on pursuing a mass mobilization. Nevertheless, many Russians who fled their country in the weeks following the invasion are reportedly also using May 9 as a barometer to gauge the safety of their return home.
Declaration of victory
The second theory concerning May 9 is that Vladimir Putin will use the occasion to declare some form of victory in Russia's "special military operation."
In an interview, Pope Francis said that in a recent conversation with Viktor Orban, the Prime Minister of Hungary relayed to him that Russia has specific plans to end the war by May 9.
Russian forces' sudden withdrawal from the Kyiv region, and their concentrated pressure onto the eastern regions of the country, may indicate that the Russian government has made internal concessions as to what it hopes to achieve with its invasion.
Domestic opposition
According to surveys conducted throughout the month of April by independent Russian pollster Levada Center, 74 percent of the Russian population "support the actions of Russian armed forces in Ukraine."
The "special operation" is still facing little domestic opposition, either due to fear or misguidance, and in order to sustain this trend, the Russian government could declare a symbolic victory. Drawing out the war, or drafting conscripts, could work against the Kremlin's domestic ratings. Regardless of the war, conscription has a bad reputation in Russia due to bad conditions of service and persistent hazing. Beyond this, overall mobilization would bring the war close to a large number of Russians who have not been personally affected by it so far.
Symbolism of 'Victory': Donetsk, Luhansk, and Mariupol
If the Kremlin chooses to pursue the "victory declaration" path, then it will likely look to occupied oblasts in the eastern Ukrainian Donetsk and Luhansk regions, or the southern Ukrainian city of Kherson. In late April, Vladimir Putin claimed that the city of Mariupol, the second largest city in the Donetsk Region, had been "liberated". As the last remaining stronghold of Ukrainian forces in the Azovstal steel plant could potentially fall to Russian forces in a matter of days, Vladimir Putin could look to use his Victory Day speech to declare victory over Mariupol.
Another possible option for a symbolic victory, would be to conduct or announce referendums of occupied territory in Ukraine. Michael Carpenter, US Ambassador to the OSCE, told journalists on May 2 that Russia will look to annex the Luhansk and Donetsk regions by mid-May through staged referenda. Russia could also turn to the occupied city of Kherson, in southern Ukraine, which surrendered to Russian forces early on in the invasion.
Kherson region
The Russian government is already beginning to conduct infrastructural changes to the Kherson region. As of May 1, Russia reportedly rerouted internet traffic through its own communications infrastructure. Russian officials also announced that starting May 1, the Kherson region would make a currency transition into rubles, while a new, pro-Russian city administration has already reportedly been formed.
Flashpoint analysts assess with moderate confidence that all of these maneuvers by Russian authorities in the region may be preemptive attempts to set the stage for a referendum, which they could either conduct, or publicly announce, on May 9.
In late April, Ukrainian presidential adviser Oleksiy Arestovych named May 1 – 10 as the likeliest dates that Russia would conduct a referendum in Kherson.
Many experts believe that if a referendum is conducted, the Kherson region will become a "people's" republic, like the status of the Donetsk and Luhansk People's Republics, recognized by Russia as an independent state. Voters will likely be presented with one of two options: 1. Do you support the creation of HNR (Kherson People's Republic) or 2. Would you like for the Kherson Region to become a part of Russia?. Kherson locals, however, have resisted the Russian occupation of their city by peaceful means and Russian authorities have resorted to violent means to disperse pro-Ukrainian rallies. Flashpoint analysts assess with high confidence that if a referendum is to be conducted in the region, the votes will likely be fabricated, as they were during the annexation of Crimea.
Possible physical and terrorist risk
Fires and attacks on military and infrastructural targets in Russia
In recent weeks, a string of reported fires and explosions have broken out across various military and industrial infrastructural facilities in Russia. While fires due to poor wiring in structurally dated, Soviet-era buildings are common in Russia, the rapid frequency of these incidents in recent weeks have given rise to a variety of speculations linking them to the invasion.
Speculations range from false-flag operations—which could be used to later blame Ukrainian perpetrators as means to justify a nationwide mobilization, to domestic opponents of the war—who target military infrastructure in an attempt to stall Russian progress and legitimate Ukrainian operations.
Timeline
One of the first major fires occurred on April 21 in a Tver research facility, belonging to Russia's Aerospace Forces, where, according to Russian state news outlets, research on the Iskander missile was being conducted. Five were confirmed dead from the fire, while 21 suffered injuries. The official cause of the fire was due to wiring malfunctions.
On April 22, two more fires broke at major facilities in Russia, one at a chemical plant in the city of Kineshma, and another in the College of Aerospace Engineering and Technology, located in a Moscow suburb. The official causes of both fires have not yet been confirmed.
Recommended: Russia's Efforts to Control the Flow of Information at Home Shows the Limits of Censorship in the Digital Age
Beyond these reported fires, various buildings in Russian regions close to the border with Ukraine have suffered a string of explosions and fires in recent weeks as well. There are more grounds to directly link these incidents, unlike the fires that occurred further inland, to Ukrainian attacks.
On April 25, two oil depots, one a civilian facility, and another a military facility, in the Russian town of Bryansk caught fire. One US military analyst claimed that due to the proximity of the facilities to the Ukrainian border, the explosions could have been caused by a Ukrainian Tochka U missile.
In the Belgorod, Voronezh and Kursk regions reports of sporadic fires were also surfacing in the last two weeks, including two erupting at ammunition storage facilities.
While the Ukrainian government never admitted to the attacks, in a Telegram post on April 27, an adviser to President Zelenskyy, Mikhailo Podolyak referred to the burning of munitions depots as "karma" against the Russian army.
More recently, on May 3, a fire erupted in a warehouse just outside of Moscow. The warehouse was owned by the publishing company Prosveshchenie, which had earlier been the focus of news due to their decision to remove positive mentions of Ukraine from their history textbooks. While authorities have not provided an official cause of the fire, this may have been an act of arson against a symbolic target.
Kerch Bridge
On Wednesday, May 4, a website with a Ukrainian domain shortly appeared, counting down the "destruction of the Kerch bridge," before it was swiftly taken down. At the time Flashpoint analysts observed the website, the countdown showed 4 days, and eighteen hours, which, in the Moscow time zone, counted down to exactly May 9.
The Kerch Bridge, which connects Crimea to mainland Russia, was built in 2018 as a government initiative meant to symbolically cement Russia's engulfment of the contested peninsula. Flashpoint analysts assess with moderate confidence that the website is a provocation, but cannot determine whether the website was launched by non-state actors, Ukrainian state-directed actors, or as a false-flag provocation by Russian authorities.
On April 24, Igor "Strelkov" Girkin, a former FSB agent and former commandant of the military forces of Donetsk People's Republic, who played an instrumental role in Russia's illegal annexation of Crimea as well as the war in Donbas, said in a YouTube video that there is a high likelihood that Ukrainian armed forces, with the help of "foreign weaponry," could blow up the Kerch Bridge.
Strelkov's video came in response to comments made on April 21 by Oleksiy Danylov, Ukraine's Secretary of the National Security and Defense Council, that Ukrainian armed forces would destroy the bridge as soon as they acquired the right weaponry to do so. Following these comments, the Russian-backed head of the Crimean Republic Sergey Aksyonov, declared a state of emergency over the peninsula due to "terrorist dangers." Kremlin spokesman Dmitry Peskov also responded to the comments, referring to the potential destruction of the Kerch Bridge as a "terrorist act."
Voenkomats
A number of Russia military recruitment centers, "voenkomats" have also been targeted with arson attacks across the country in recent weeks. On May 4, a voenkomat in the Russian town Nizhnevartovsk caught fire, and local authorities believe that an arsonist used a molotov cocktail. Throughout the last month voenkomats in the Moscow, Sverdlovsk, Ivanov, Mordovia, and Voronezh regions suffered fires and acts of vandalism. While authorities have not made comments as to whether these fire incidents are part of a broader coordinated effort, these acts of arson are likely intended to protest the war by disrupting the military draft process. Because all of the personal information about potential conscripts in this recruitment center is not digitized, but is only stored in paper format, the destruction of these voenkomats would hinder local recruitment efforts.
Flashpoint analysts asses with moderate confidence that if a nationwide mobilization is declared on May 9, Russia will see an increase in such acts of arson committed against military recruitment centers.
Potential scapegoating of Ukrainian Nationals in false-flag operations
In recent weeks, Flashpoint analysts have observed conversations on pro-Ukranian Telegram channels predicting a mobilization in Russia, which the government, according to these conversations, would justify using a false-flag terrorist act perpetrated by alleged Ukrainians.
Last week, reports from Moscow surfaced that city police, while conducting routine door-to-door visits to Moscow residents ahead of the May 9 parades, were asking locals if they were aware of Ukrainians living in the buildings. Due to the lack of further context or information about these searches, Flashpoint analysts cannot make any definitive conclusions as to whether the police were motivated by wartime suspicion, or whether they were searching for subjects to use for false-flag operations.
Assassination attempt
On April 25, the Russian government claimed to have foiled an assassination attempt against main Kremlin propagandist Vladimir Solovyov. According to the official narrative, a group of six Ukrainian nationals attempted to plant a bomb on Solovyev's car in Moscow, working under the orders of Ukrainain special forces. A video of their arrest was published by the Russian government, which was swiftly criticized by a number of independent Russian journalists for its staged appearance.
Ukrainian Secret Service also denied any involvement in the alleged assassination plot on their Telegram channel.
Based on the available information, Flashpoint analysts assess with low-confidence that the alleged assassination plot against Vladimir Solovyev could be a Russian false flag operation to further villify the Ukrainian government in the eyes of the Russian public. Foiled assassination attempts and terrorist plots in Russia have always given rise to suspicions of false-flag operations. In the late 1990s and early 2000s, a number of terrorist attacks on Russian soil were used to garner public support for Russia's war against Chechnya and boost Vladimir Putin's ratings; many independent Russian journalists and Kremlin critics believed the attacks were staged.
Get Flashpoint intelligence on your team
Any organization's security capabilities are only as good as its threat and vulnerability intelligence partner. Flashpoint's suite of tools offer you a comprehensive overview of your threat landscape, providing you with the ability to proactively manage risks and protect your assets, infrastructure, and personnel. To unlock the power of great threat intelligence, sign up for a demo or get started with a free trial today.