Blog
What to Expect on the First Anniversary of the January 6 Capitol Raid
The fallout from the January 6, 2021 Capitol raid—which includes an increased focus by US government (USG) on domestic extremism, including a recent lawsuit filed by the DC attorney general—is reshaping the far-right extremist and militia landscape in the United States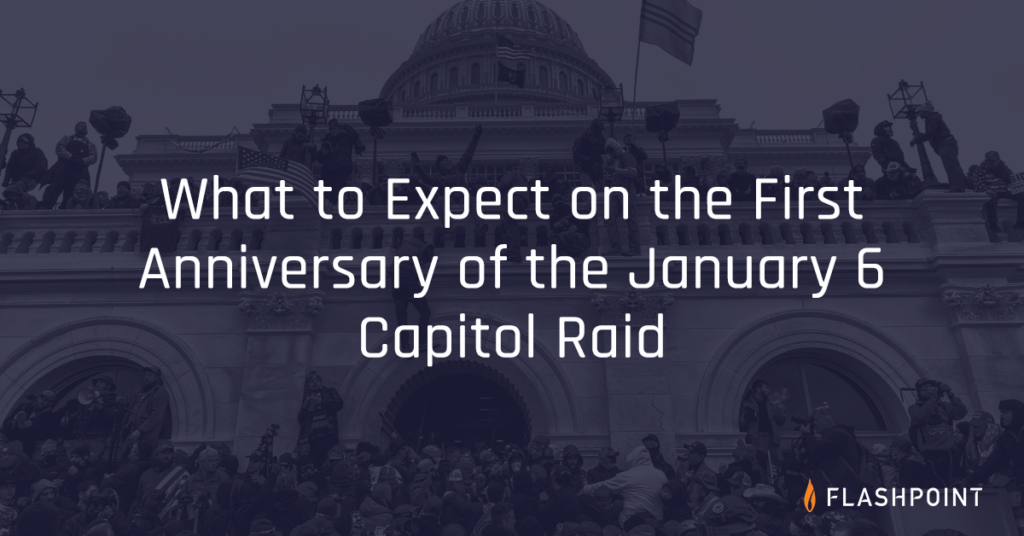 Table Of Contents
The fallout from the January 6, 2021 Capitol raid—which includes an increased focus by US government (USG) on domestic extremism, including a recent lawsuit filed by the DC attorney general—is reshaping the far-right extremist and militia landscape in the United States.
Since the insurrection, many of the groups involved in the events of January 6 have been adjusting their strategies, increasing their recruitment efforts, bolstering their operational security measures, and finding new partnerships. The latter is among the most consequential shifts in the post-January 6 landscape; solidarity among far-right extremists and anti-government militias around perceived injustices has resulted in previously unseen coordination and coalitions, the ire of which is often directed at the USG.
Now the first anniversary is here. Here's what we know about the cyber and physical threat landscape leading up to the date.
Planned Anniversary Demonstrations
Notably, the most organized and widespread effort to plan anniversary events is being spearheaded by Look Ahead America, which is hosting candlelight vigils at various locations nationwide. The organization has previously hosted several January 6-related events and was the primary organizer of the September 18 rally at the US Capitol.
Notably, as of this publishing, Flashpoint analysts have not identified any organized extremist groups—such as the Proud Boys, Oath Keepers, and Three Percenters—calling for, or coordinating, an anniversary demonstration.
According to Look Ahead America's website, there are currently several planned vigils scheduled to take place on January 6, 2022 in various location, including includes state capitol areas and facilities which currently detain alleged January 6 participants.
Arizona
District of Columbia
Florida
Georgia
Hawaii
Montana
North Carolina
South Carolina
Individuals can fill out a form on Look Ahead America's website to express interest in hosting a vigil; therefore, additional locations will likely be released as January 6, 2022 approaches.
"Patriots" Vs. US Government Narrative
After the January 6 Capitol insurrection, far-right extremist groups and far-right extremists in general claimed that the raid was actually created by the USG with the intent to frame "patriots." This narrative continues to circulate within far-right extremist communities and has influenced such communities' desire to protest.
Though analysts have not identified any organized extremist groups (Proud Boys, Oath Keepers, and Three Percenters, e.g.) calling for an anniversary demonstration within official or credible sources, over the last month, chatter within some unofficial and typically less credible far-right extremist sources indicates that individual actors may seek to protest on or around January 6, 2022.
While Flashpoint analysts have not heretofore identified any credible or specific threats of violence, scuffles between demonstrators, counter-demonstrators, and law enforcement have occurred at recent events attended by far-right extremists and are possible at future events.
Shifts in Group Objectives
Going Local
The aftermath of January 6 has impacted the strategy of some far-right extremist groups and anti-government militias. Groups such as the Proud Boys are taking a more grassroots, political approach by latching onto political issues within their communities, likely in an effort to make an impact on policy decisions while also altering their public perception.
In a June 2021 interview with NPR, former Proud Boys leader Enrique Tarrio—who stepped down as chairman in late June 2021—stated that he wanted to get members involved in local politics. Tarrio dismissed claims that this decision was based on the group allegedly splintering due to backlash from the January 6, 2021 Capitol raid. Regardless of their motivations and whether they are directly connected to the January 6 fallout, analysts have identified examples of different Proud Boys chapters organizing locally and engaging in local-level school board meetings focused on vaccination and mask mandate issues. By capitalizing on these highly charged issues that affect Americans' everyday lives on a deeply personal level, groups like the Proud Boys have found a platform and new audiences.
Developments in Recruitment and Operational Security
Far-right extremist groups and anti-government militias are also stepping up recruitment efforts and increasing their operational security measures. For example, the Proud Boys established and promoted several new chapters throughout the US, with some chapters actively promoting posts calling for new recruits.
Amidst this uptick in recruiting efforts, some groups are also more judicious in how they conduct these activities, cognizant of the increased scrutiny they face. For example, a new anti-government militia and far right extremist coalition bolstered its recruiting efforts but also sharpened its vetting processes by making their application process more strict for new members.
Fundraising Efforts Following January 6
As of December 28, 2021, over 700 people have been charged with participation in the January 6 Capitol raid—among those are members of the Three Percenters, Oath Keepers, and Proud Boys. The arrests of key figures belonging to the aforementioned groups has placed a financial strain on them as they strive to gather funding for legal defense purposes. Since January 6, groups such as the Proud Boys have bolstered legal defense efforts by promoting fundraising sites such as Our Freedom Funding and GiveSendGo for members that have been arrested.
Protect personnel, assets, and infrastructure with Flashpoint
Safeguarding company personnel, assets, and infrastructure from physical threats posed by adversaries, ranging from insiders and hacktivists to violent extremists, is inherently challenging and resource-intensive. Sign up for a demo or free trial today to see how Flashpoint can empower your security teams.