Blog
Flashpoint in 2023: A Note From Our CEO
How Flashpoint will improve, innovate, and inspire in 2023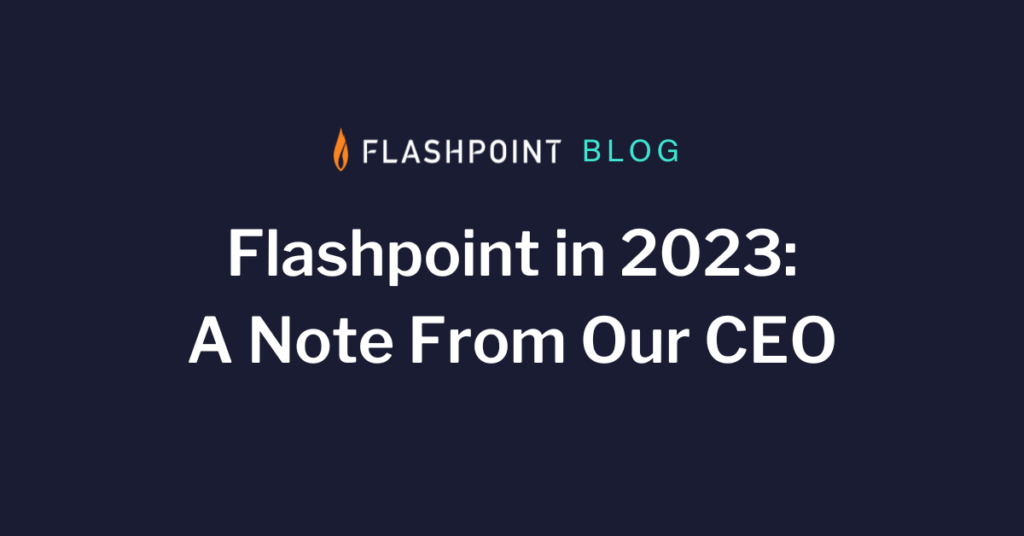 Table Of Contents
Harnessing the OSINT revolution
To me, 2022 was the year of OSINT, a time when open-source intelligence (finally) got its time in the sun. This is due in large part to Russia's full-scale invasion of Ukraine—a hybrid war nearing the one-year mark that's being waged across cyber and physical battlefields. In fact, the war between Russia and Ukraine has become the poster child for how truly essential and impactful OSINT can be, especially during a modern military engagement.
To be clear, Ukrainians and organizations active in Ukraine face the most acute risks. But this war is also actively impacting even those who are not physically present in Ukraine, including commercial entities and world governments. For these organizations, gaining reliable, timely, and actionable intelligence is a constant test—one that Flashpoint is helping hundreds of clients tackle daily.
OSINT has long been a mission-critical investigatory tool in the security and intelligence community, especially in the public sector, and 2022 proved that out. Malware, insider threats, data breaches, financial and cryptocurrency fraud, violent extremism, social engineering schemes, and ransomware continued to plague organizations of all sizes across the public and private sectors.
Strengthened by our 2022 acquisitions of Risk Based Security and Echosec Systems, Flashpoint is now the commercial leader in open-source intelligence, which CIA Deputy Director for Digital Innovation Jennifer Ewbank calls "one of our richest sources of insight and our INT of first resort."
Today, more than 730 customers globally rely on our intelligence, expertise, and technology—leaning on Flashpoint to form a bulwark between their assets and risk. In 2023, Flashpoint will continue to invest in OSINT's revolutionary effect in order to continue to deliver on our mission. Here's how.
Roadmap 2023
In the last 12 months we've delivered new products, features, and functionalities to our clients that make our data and intelligence even more actionable. This includes:
In 2023, Flashpoint will deliver products that make it even easier for security teams of all sizes and sophistication levels to leverage OSINT, as well as our complete suite of risk intelligence tools, to find and stop threats quickly. To accomplish this, our roadmap is focused, in part, on putting all the right OSINT into a single platform that empowers different security teams to take the right actions tailored to their mission to reduce risk.
More than simply supporting a single team, Flashpoint is able to empower teams across organizations to reduce their overall holistic risk across both the cyber and physical domains. Security programs that take holistic perspectives of addressing risk will be best prepared to prevent and mitigate an expanding threat landscape.
UX improvements
In the year ahead, we'll be releasing a redesign of our entire user experience with more intuitive navigation, situational awareness to guide teams to the most important intelligence to discover threats quickly, and blazing fast search rebuilt from the ground up with proprietary data science models to deliver the most relevant results up front.
Whether in the commercial sector on a Cyber Threat Intelligence (CTI), Vulnerability Management, or Physical Security team or in the public sector in Defense, Law Enforcement, or National Security, our upcoming experience is going to save teams and organizations time and cost in detecting and mitigating threats.
Intelligence classes
Furthermore, in order to make our intelligence more accessible and easily discoverable by teams, Flashpoint will be releasing mission-based intelligence classes. The dizzying array of intelligence and data sources can make it difficult to find the most relevant intelligence.
Today, teams need to know which data sources to search in combination with what is relevant for their specific security mission, ranging from vulnerabilities, financial fraud, threat actors, and many more. Flashpoint is changing that with clearly defined intelligence classes that are tied directly to mission to help find the relevant intelligence quickly and easily.
OSINT's continued impact
In addition to our products and solutions supporting the private sector, we're also very proud that our OSINT is supporting public sector missions as well. Whether Defense, Law Enforcement, or National Security, Flashpoint's data and intelligence have been applied to save lives and reduce risk, reflecting the profoundly positive impact OSINT can make in our world.
In addition, different security teams leverage the same OSINT data in different ways, based on their missions, and Flashpoint will help connect the dots for teams to collaborate in reducing risk benefiting the entire organization. OSINT's impact crosses teams, industries, and the private and public sectors. As threat intelligence continues to evolve, OSINT has become a must-have in informing and assessing risk.
Noted Ewbank, "When you think about the future of the intelligence business…you should first think about open source."
To a safe and successful year ahead
All of these upcoming improvements highlight that in 2023, Flashpoint's risk intelligence platform will be the essential tool for security teams of all sizes and maturities who recognize that intelligence works best in a multi-team approach to reduce risk holistically.
We are excited to roll out these improvements throughout the year to help our customers protect their employees, customers, assets, and stakeholders in the face of the threats we will undoubtedly face in 2023. While certainly there will be threats to face in the new year, I'm optimistic that as a security community, we will again rise to the challenge, and that 2023 will be a successful year for the good guys.
In the end, this is the name of the game: leveraging intelligence to close gaps in an organization's risk profile. This was, as ever, Flashpoint's focus in 2022. And it will continue to be our focus in 2023.
Thank you to our Flashpoint customers, partners, and team for a successful 2022—we are proud to partner with our customers to help them and the broader community reduce their risk. And, of course, I'd like to wish the entire community a very happy, healthy, and safe new year!