Blog
COVID Key Developments: June 20 – July 2
Governments across the world are reviewing ways to reopen economies to start their economic recovery. In pursuit of this, some countries are developing plans to reopen their borders to foreign travelers, in some cases without requiring mandatory self-quarantine periods upon arrival. However, other countries, such as Canada, have extended their bans on foreign travelers.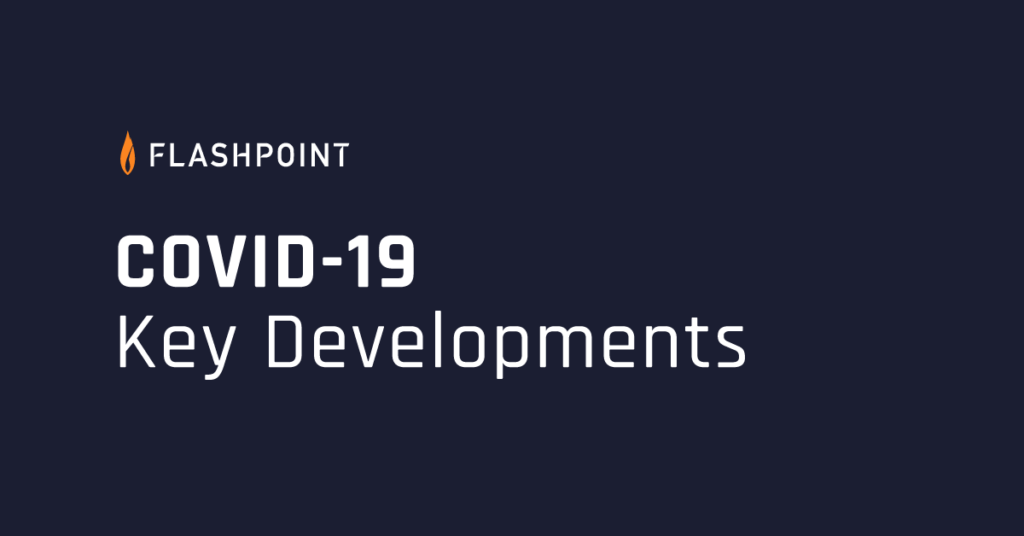 Table Of Contents
Government Responses:
Governments across the world are reviewing ways to reopen economies to start their economic recovery. In pursuit of this, some countries are developing plans to reopen their borders to foreign travelers, in some cases without requiring mandatory self-quarantine periods upon arrival. However, other countries, such as Canada, have extended their bans on foreign travelers.
On June 30, EU ambassadors approved a list of countries whose citizens can travel to the bloc. These approvals were based on how well the countries have worked to contain the virus within their borders as well as reciprocal easing of travel restrictions. As of this writing, the list includes Algeria, Australia, Canada, Georgia, Japan, Montenegro, Morocco, New Zealand, Rwanda, Serbia, South Korea, Thailand, Tunisia, Uruguay, and China (once it drops its own restrictions on EU nationals). This list will be reviewed and revised every two weeks based on the latest case figures. Each member country is responsible for deciding how to implement this list in their own country.
The majority of US states have seen a rise in the number of cases in the last couple weeks. Many states have either rolled back reopenings of public spaces or put a temporary hold on plans to move on to broader reopening phases. Many states have also instituted requirements that travelers from states with high rates of COVID-19 infection self-quarantine for two weeks. Officials across most states have developed these lists based on infection rates of other states, and will update based on case trend data. According to online volunteer-led initiative Covid Act Now, which tracks and models the spread in the United States, Connecticut, Massachusetts, Rhode Island, and Vermont are the only states currently on track to contain COVID-19.
The World Health Organization warned that countries may have to reinstitute lockdowns to prevent renewed spikes of infections. Although some countries have successfully tamped down on case volumes, countries such as India, South Africa, and the United States continue to see high numbers of cases. Japan reported on July 2 that it had its highest case number in two months.
Medical Research Developments:
Researchers across the world continue to pursue development of a vaccine against the coronavirus. As of this writing, over 145 vaccines are in development and in various phases of approval, including 19 in human trials.
India Approves Vaccine Pilot: India's Central Drugs Standard Control Organisation approved human trials for a coronavirus vaccine, Covaxin. It was developed by Bharat Biotech India alongside the Indian Council of Medical Research and the National Institute of Virology. The trials are set to begin this month.
China Approves Experimental Vaccine for Military: The Chinese government approved the use of an experimental vaccine called Ad5-nCoV on June 25. The vaccine was developed by the Beijing Institute of Biotechnology in collaboration with vaccine company CanSino Biologics. The drug is only approved for use with military personnel.
In May, the Canadian government announced a collaboration with CanSino Biologics to develop this vaccine with Canadian researchers.
US Purchases Global Stock of Remdesivir: The US Department of Health and Human Services announced that it had obtained 100 percent of the available Remdesivir, which has been used as a treatment for the coronavirus.
In response, EU officials renewed negotiations with its manufacturer, Gilead Sciences, to obtain doses for EU member states and to discuss the possibility of expanding production to meet global demand.
Cybercrime and Coronavirus:
Flashpoint analysts continue to track ways in which threat actors in illicit communities are exploiting issues related to the pandemic for fraudulent purposes. Some examples include:
An English-speaking threat actor posts on popular forums that they have access to a database from Indonesia with COVID-19 patient information. They indicate it is current as of May 20, 2020. They say the fields available in the database include patient names, biographical information, and some basic details about the cases, such as contact type. The actor also includes a sample of the data.
A Russian-speaking threat actor offers for sale "leftovers from warehouse." They list non contact infrared thermometers (models Aicare A66, DT8836, ET-900, and GP-300), pulse oximeters, and coronavirus tests as items available for sale. They provide their contact details and photos of items as proof of credibility.
An English-speaking threat actor operating in a popular chat services channel inquiring if anybody was available to help them conduct unemployment fraud. They did not provide any other details. They likely expect responses via secure private messaging.
An English-speaking actor posts in a popular chat service channel asking whether any users in the channel have a written method for "loading business accounts via covid loans." They do not specify what type of loans, or whether they are targeting loans in specific countries. As of this writing, it does not appear any users responded in the channel to their request.
Misinformation and Disinformation Narratives:
Misinformation and disinformation about COVID-19 continues to spread on social media platforms and via chat services. Narratives and major developments observed by Flashpoint analysts include:
Social Media Campaigns Discourage Mask Wearing: Following successful attempts—mostly by extreme right social media and traditional media actors—to politicize mask wearing, disinformation narratives targeting mask wearing have made up the majority of new narratives Flashpoint analysts observed on social media platforms.
On social media, users used hashtags such as #masksoffamerica, #unmaskamerica, and #maskhoax to drive campaigns against mask wearing or to misleadingly argue that masks were ineffective or represented a health risk. Viral images and posts related to these campaigns collectively earned millions of interactions. These included an image and a post that falsely claimed that wearing a mask removes a person's ability to carry a gun—probably a case of trying to link a new agenda with anti-gun-control groups, which have an established and strong presence in public discourse. A misattributed photograph ostensibly showed a dead truck driver in California carrying contaminated masks. Some of these posts were amplified by influencers with a committed base of followers.
An article shared on several social media platforms claimed that the US Occupational Safety and Health Administration (OSHA), part of the Department of Labor, said that masks did not work because they reduced "oxygen levels." Videos also claimed to show that wearing a mask leads oxygen levels to drop into "the danger zone."
A meme shared on several social media platforms aggregated several misleading claims about mask wearing. Flashpoint analysts have observed in earlier disinformation campaigns that memes often serve as a gateway to extremist communities or disinformation campaigns.
Conspiracy Theories about Bill Gates and a Future COVID-19 Vaccine: A video claimed that Gates offered US$10 billion to the Nigerian government to impose forced vaccinations. The video marks a relatively novel trend of disinformation content targeting African countries as the COVID-19 pandemic spreads there. Gates has previously been accused by conspiracy theorists of funding programs that caused harm in developing countries.
Misleading Claims about the Growing Case Count: Such claims have spread on various platforms in the United States after President Donald Trump claimed that the numbers were going up only because of more extensive testing. In fact, both the number of COVID-19 tests and the positivity rate of the tests have been rising since the beginning of June.