Blog
COVID-19 Key Developments: Week of April 25-May 1
Dr. Anthony Fauci, a key member of the White House coronavirus task force, claimed in an interview on April 30 that a vaccine may be widely available as early as next year for the coronavirus, although the US Federal Drug Administration has not yet approved a vaccine.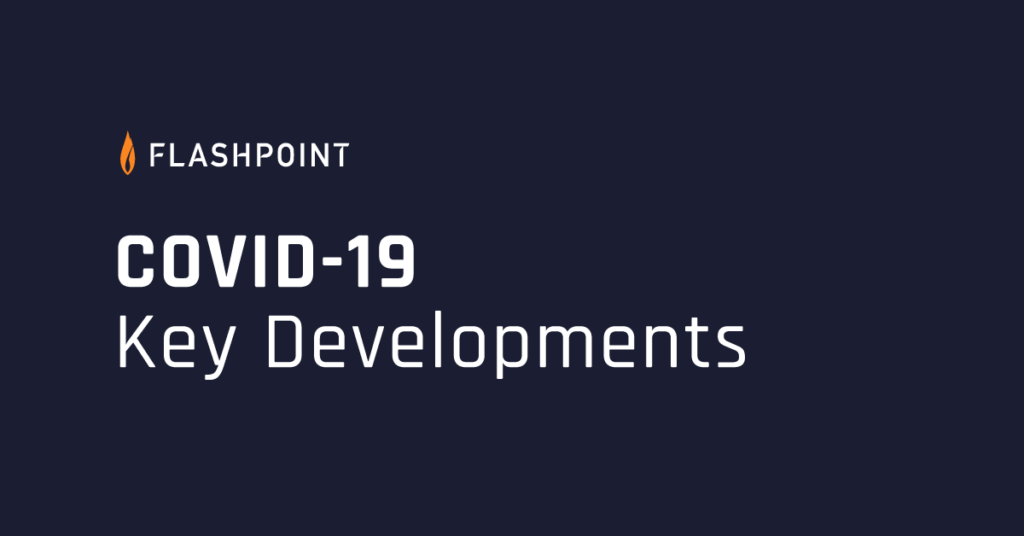 Table Of Contents
COVID-19 Medical Research:
Dr. Anthony Fauci, a key member of the White House coronavirus task force, claimed in an interview on April 30 that a vaccine may be widely available as early as next year for the coronavirus, although the US Federal Drug Administration has not yet approved a vaccine.
On Wednesday, April 29, biopharmaceutical company Gilead Sciences released preliminary results from its clinical trial of remdesivir. The trial involved 297 patients with severe cases of the virus, and showed at least 50% of the patients treated with a five-day dosage of the drug improved. The study did not evaluate the drug against a control group of patients who did not receive the drug, but he National Institute of Allergy and Infectious Diseases also released results from its own study, which showed COVID-19 patients who took remdesivir usually recovered after eleven days, four days faster than those who did not take the drug.
Government Responses:
On April 28, President Donald J. Trump signed an executive order that meat processing plants in the US were to remain open, invoking the Defense Production Act to classify the facilities as essential infrastructure. This executive order came after some reports by large meat producers about supply chain concerns, citing plant closures due to staffing shortages tied to the virus.
On Thursday, April 30, the World Health Organization (WHO) reconvened its COVID-19 committee to evaluate any update to its global recommendations related to the virus. On May 1, the WHO announced that it still considers the coronavirus pandemic a public health emergency of international concern.
On Thursday, April 30, President Trump claimed that he has seen evidence that the coronavirus originated from a lab in Wuhan, China, which is consistent with his narrative blaming China for the spread of the virus. Despite Trump's claim, the US Office of the Directorate of National Intelligence released a statement on the same day that the virus "was not manmade or genetically modified," but that the agency continues to investigate leads regarding the origins of the outbreak.
Other world leaders have also levied criticism against China for its handling of the pandemic and called for investigations into failures to properly contain and provide earlier warnings to the rest of the world. However, there continues to be consensus between the US Intelligence Community and other governments that the disease was not man made, and that there is no evidence that it originated in a lab.
On Friday, May 1 the Chinese government announced that China's central province of Hubei, where the coronavirus is believed to have originated, will ease its lockdown restrictions beginning Saturday, May 2. Hubei's health commission posted on its official WeChat account that it plans to lower its emergency response level to the second-highest grade.
On Friday, May 30, UK Prime Minister Boris Johnson declared in a press briefing that the country had seen the peak of infections and were now beginning a downward trajectory, acknowledging the positive impact of lockdowns and expansion of testing. However, in his briefing he did not provide a timeline for easing of lockdown restrictions.
In the US, additional states announced plans to re-open some businesses beginning in early May, in line with federal guidelines released last week. These states announced that the openings of businesses will be a multi-phased approach and that there are continued restrictions on mass gatherings.
Governments, in cooperation with various private companies, have started to roll out numerous apps designed to monitor individuals in quarantine as well as conduct contact tracing to track the spread of the disease. Some privacy advocates have expressed concern about the type of data continued through these apps. There has also been some criticism levied about the effectiveness of such apps, given the sometimes inconsistent download rate of an app in a given geographic area that would limit the quality of data collected for contact tracing.
Coronavirus and Cybercrime:
Threat actors are continuing to find ways to leverage the coronavirus pandemic to carry out various fraud schemes and malicious campaigns.
The Australian Federal Police are investigating allegations of a hoax targeting the Government's new COVIDSafe app. The app was released on April 26 to assist the government with tracking the virus. However, fake text messages circulated that claimed the app had detected the recipient was too far from their home, and was required to contact the government. According to images provided of the fake message, the text also included a number for the recipient to call. In response to the hoax, Australian officials clarified that the app does not save individual location data and only tracks proximity of the phone to other phones that have downloaded the app.
Flashpoint analysts continue to track fraudulent activity within illicit online communities seeking to exploit government funds disbursement to individuals and businesses. Recent activities include:
An English-speaking actor posts in a popular chat service channel claiming to have a method to illicitly obtain funding through the US government's Economic Injury Disaster Loan (EIDL) program. According to their ad, they have devised a method to maximize the chances of receiving the maximum distribution in the loan, regardless of having an actual qualifying business. They include the caveat that the method is not guaranteed, but claims that they received two maximum disbursements using this method. As proof, they include a screenshot allegedly showing the deposit of federal funds into a bank account.
On the Reddit subreddit /r/LegalAdvice, two separate users question employers' activities that appear to be attempts to fraudulently receive federal funding. One actor stated that they know of an employer who is attempting to force contract employees to pay back any funds received through the Paycheck Protection Program (PPP). Another actor claimed that their employer is purposely manipulating their salary to fraudulently qualify for PPP funds.
Misinformation and Disinformation Trends:
Narratives and major developments observed by Flashpoint analysts include:
Narratives having to do with anti-lockdown protests continued spreading in the United States.
As a relatively new element, disinformation about protesters and signs displayed at protests appeared, such as a photo shared on social media platforms showed a doctored sign "translating" the name "Barack Hussein Obama" to numbers, suggesting that the name signaled the "19" in COVID-19. Several other signs that were reported as possible misinformation turned out to be genuine.
Narratives involving doctors:
Users of extremist platforms have reacted angrily to the removal of a video on social media that showed two doctors from Bakersfield, CA questioning lockdowns and news about overwhelmed hospitals and suggesting that "something else" might be behind states' decisions to continue these measures. The video was a source of controversy since it was shared across multiple different social media platforms, but some platforms allowed it to remain up. To get around possible takedowns, users have reuploaded the video and excerpts from it in several versions, including as part of conspiracy theorist videos.
More unequivocal disinformation content featuring doctors and researchers continued spreading. Following a genuine statement by Nobel Laureate Luc Montagnier the week before, this week a fake message claiming that Tasuku Honjo, a Japanese Nobel laureate confirmed that COVID-19 was made in a military lab circulated on social media.
Narratives attacking leading political figures continued spreading:
Content attacking Democratic politicians accusing them of various links to China or the Wuhan Institute of Virology from where according to an unconfirmed theory the virus "escaped", appeared on various social media platforms. A viral tweet falsely stated that House Speaker Nancy Pelosi visited Wuhan in 2019. A narrative misleadingly claiming that president Donald Trump confirmed that Barack Obama's administration funded the Wuhan lab with US$3.7 million spread on multiple social media platforms.
Connected to the above are the newest incarnations of the theory that various government agencies or the "deep state" had known about the pandemic before it started, e.g. a 2019 CDC job listing for a "quarantine advisor" that was shared on Facebook.
George Webb, a conspiracy theorist claimed in a viral video that a US Army reservist named Maatje Benassi was "Patient Zero" of the Covid-19 virus, which he claims she contracted on October 20, 2019 while cycling in military games in Wuhan. Benassi and her husband were subject to online harassment and death threats. YouTube removed the video.
Renewed push of narratives advertising fake or untested cures:
As the race for a cure and a vaccine against COVID-19 continues, last week saw the emergence of several articles, messages and videos about untested treatments. These seem to have replaced narratives about hydroxychloroquine, an anti-malaria drug that has been found ineffective against COVID-19.
A viral video claimed that acetazolamide (Diamox), a drug used to treat high-altitude sickness can cure COVID-19.
An unscientific rumor has circulated on various social media platforms via chat services since early April, the novel coronavirus does not kill directly but by infecting an intestinal bacterium called Provetella and therefore the disease can be treated with antibiotics.
Videos and articles on the French-language internet have spread the claim that Andy Rajoelina, the president of Madagascar, found a natural remedy to COVID-19 based on plants that grow on the island and have ostensibly been used in Chinese medicine for a long time.
Meanwhile, an unsubstantiated claim that a volunteer in Oxford University's COVID-19 vaccine trial died appeared on a fake news site.