Blog
Advancing Threat Intelligence through Community and Action at FUSE Spring 2021
On April 21, 2021, we held our semi-annual customer conference, FUSE Spring 2021—marking our biggest and most successful event yet. From exciting industry best practices to the latest industry threat trends, there was a lot to take in.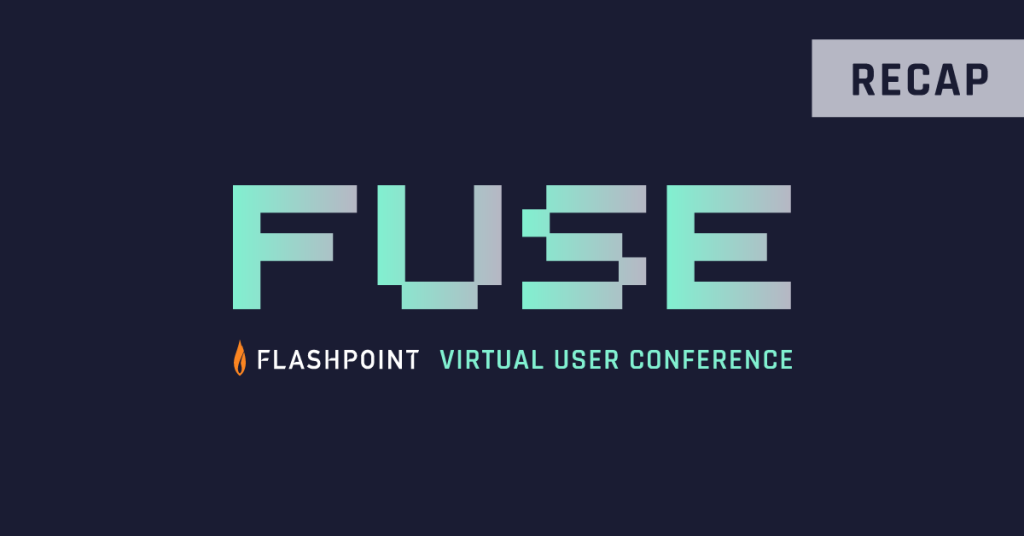 Flashpoint's Biggest FUSE Customer Event To Date
On April 21, 2021, we held our semi-annual customer conference, FUSE Spring 2021—marking our biggest and most successful event yet. From exciting industry best practices to the latest industry threat trends, there was a lot to take in.
If you missed it, don't worry! We're going to recap the main points for you AND the event is now available for you to watch!
The Expanding Role of Threat Intelligence
The live virtual event kicked off with an update from Flashpoint's SVP Intelligence, Tom Hofmann. Highlighting the expanding role of threat intelligence within organizations, including new ways to embed it into their daily workflows to achieve their critical missions. Throughout the day's discussions, the concept of converged threat intelligence and cyber fusion centers emerged as a way to better and more efficiently coordinate with the growing list of internal intelligence consumers and stakeholders. From metrics and ROI reporting to rapid alerts and deep IOC enrichment, Flashpoint supports the many expanding roles of threat intelligence across fraud, physical, and cybersecurity teams.
Take a look at all of Flashpoint's Products to see the many ways we support security, fraud, and risk teams.
Customer Roundtables Discuss the Extended Enterprise and Mounting Third-Party Risk
Our customer-led panel sessions are always some of the highest-rated at FUSE, and this year was no exception. We heard from security and intelligence leaders discuss today's threat environment and the rising third-party risks that their vendors and larger supply chains represent as major breaches like SolarWinds and Accellion.
What's the key to combating these threats? Know your company inside and out. You must understand the full scope of your business throughout its operational value chain and where potential vulnerabilities and stopgaps may lie. Threat intelligence assessments have been crucial in this knowledge-gathering effort, according to the panelists. These security and incident response (IR) leaders increasingly monitor for third-party cyber-events, going so far as to alert leadership of new third-party breaches even in cases where the immediate security impact appears to be low or even nonexistent.
Luckily for you, with our Threat Response and Readiness solution, we can run tailored threat assessments and help ensure your entire organization is prepped to respond to any threat you may face.
New and Upcoming Products Showcase Flashpoint Innovation
But we know what you're looking for—the crown jewel of FUSE Virtual Spring Event, Flashpoint's Vice President of Product Matt Howell, and Chief Information Architect Austin McDaniel's session's on What's New and Coming Soon at Flashpoint. With so many new features and updates, including quite a few inspired by your requests, we've only highlighted a few, including Flashpoint Domain Monitoring and Takedowns and Flashpoint Card Fraud Mitigation. We added these new products alongside many other enhancements to our existing products—registering significant year-over-year improvements, like the 10x growth in our data collections.
For a full rundown of all the new features coming your way, register for our monthly newsletter.
The Future Is Automated
Since our last event, FUSE Fall 2020, we acquired a no-code security automation tool and have been working furiously to embed its capabilities into and throughout the Flashpoint Intelligence Platform. Previewing what we now call Flashpoint Flow, we showcased some early use-cases through the Flow design engine and graphical UI. The seamless threat intelligence action that Flow's no-code toolkit orchestrates will dramatically speed up repetitive analyst tasks, resulting in time-saved and faster, more categorical threat mitigation and response.
Get in Touch with Us and Revisit FUSE Spring 2021
And that's a wrap on this recap! While many of these new features are already available, there are more to come so watch for the next announcement, so you never miss out on the latest upgrade. If you missed FUSE Spring 2021, we have much more in store, including a full slate of events planned throughout the year—please join us for one (or many)! And of course, FUSE Fall 2021 will be here before you know it too.
As always, please sign up for a demo and see firsthand how Flashpoint delivers the actionable intelligence you need to stay ahead of threats and achieve your critical missions.